Description
mCam703/mCam703U
mCam703/mCam703U is based on an ultra-compact and power efficient CameraChip™ image sensor ov9734 designed for slim notebooks, tablets, handsets, and other devices that require a thin bezel. Built on OmniVision's PureCel® technology, the OV9734 CameraChip™ delivers premium quality images and video, while consuming significantly less power than previous generation image sensors. It integrates image array, signal processing, timing and control circuitry, all on a single chip. It is ideal for applications requiring a small footprint, low power and low cost.
mCam703 uses 10pin connector for C8207 and mCam703U uses micro USB connector for C8203.
Features:
Tip size 3.8 OD x 8mm
Resolution: HD1280x720 pixels
Operation voltage 2.8V, 1.8V,1.2V
MIPI interface
Low power consumption
Cable size: 1.8mm OD
Cable length: 1M (up to 4M)
Pin Description
| | | |
| --- | --- | --- |
| 1 | EVDD | 1.8V |
| 2 | VDD | 2.8V |
| 3 | CLK | clock input |
| 4 | SCL | I2C clock |
| 5 | SDA | I2C data |
| 6 | MDN | MIPI Data Negative o/p |
| 7 | MDP | MIPI Data Positive o/p |
| 8 | GND | Ground |
| 9 | MCN | MIPI clock Negative o/p |
| 10 | MCP | MIPI clock Positive o/p |
Specification
Imager
CMOS imager sensor OV9734
Optical Format
1/9"
Clock rate
24MHz
Max exposure
798 x T line
Video Output
MIPI
Scan mode
Progressive,max 30fps
Data format
10bit Raw RGB
Picture Element
1280x768 pixel
Pixel size
1.4x1.4um
Effective image area
1819.58x1033.34um
S/N Ratio
36.4dB
Dynamic range
68.4dB @16x gain
Operation Voltage
2.8V,1.5V
Power consumption
69mW
Connector
10pin 1.25mm pitch
Tip Dimension
OD=3.8mm , L=15mm
Lens specification
FOV: 108deg @full resolution
F/N: 4.0
Working Distance
5mm ~ 10mm
Application Note
Customer can develop his own solution to interface mCam703 but we provide USB modules C8207 for PC application Besides, we provide solution for HDMI output with image control functions
---
C8207
The C8207 is specially designed for micro-camera module, mCam70x series. It has built in a delicate DSP to interface mCam70x camera as well as the USB2.0 transceiver to output compressed video thru USB. It is UVC compatible and no PC driver is required
Features:
Small in size, 57x15mm
USB2.0 UVC device
Plug and play, no driver required
MJPEG video at 30fps
Video size selectable: 1280×720 & 640×480
Standby mode when no video streaming
Button for color balance
Connector to match mCam70x
Optional LED power output
Low power consumption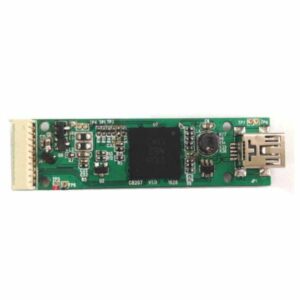 ---
C8203E703
This module has been designed for mCam series and output real time video to HDMI monitor. It performs still image capture as well as video recording and store files to SD card. It has been designed for operation by DC5V or lithium battery.
Features:
Interface to mCam series camera
Real time Video output
HDMI output 1280×720@30fps
Simple operation for AWB
AVI recording
Store to SD card, up to 32G
Image quality fine tune possible
RTC with battery backup
Battery level detect and display onscreen
5VDC/4.2V Li-ion battery operated
Built in battery charging circuit
Individual GPIO for key input